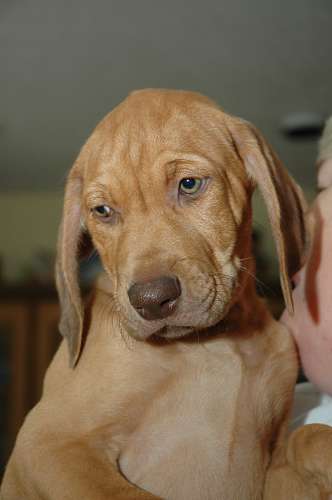 Lilongwe Lamar
"Lamar"
19th May 2006 - 21st July 2006

Lamar was the very first born Lilongwe Puppy. Sadly from the moment he was born fate seemed to be against him. He had a Dermoid Sinus, which we had decided to have removed as soon as he was old enough, and a kink at the end of his tail. He was a lovely well boned and strong puppy of great character who became known by all who knew him as "Our Sinus Boy". Then at the age of nine weeks crushingly he was diagnosed with megaoesophagus, a terrible condition which inhibits the passing of food along the oesophagus and into the stomach. The prognosis was not good and so heartbreakingly we decided to let him go to join his little sister Angel who we lost shortly after her birth.
During the nine weeks of his short life, he brought us a tremendous amount of pleasure and entertainment. It was only in the last week that, with hindsight, we could see he wasn't always as keen to join in with the rough and tumble of his siblings.
Until we meet again Lamar, Our Sweet Little Sinus Boy, enjoy the endless sunshine and the lush sheltered meadows with your baby sister Angel. We will always love you both.